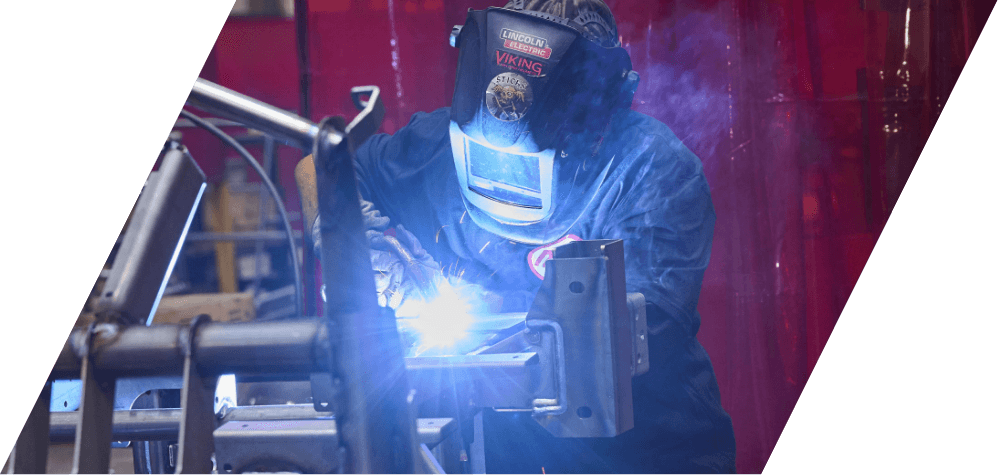 Welding
MEC has comprehensive welding capabilities with MIG, TIG, spot, projection, stud, plasma, laser, brazing, and robotic integration. Utilizing modular tables and expert tooling programs, we provide a wide range of products and applications that are supported with aluminum, copper, and steel materials.
Brake Press
MEC's Press Brake operations range from 35 tons to 500 tons, allowing lengths of six to 16 feet. Our process specializes in robotic integration and creative tooling solutions, with a wide range of sheet metal products that are offered with limited to no tooling costs to customers.
Coatings
MEC uses state-of-the-art processes and advanced equipment to provide world-class finishes. Our facilities are capable of providing a wide variety of paint capabilities, including Shot Blast, Acid Pickle, Zinc Phosphate, E-coat, Liquid, High Temperature, and CARC.
Laser Cutting
MEC has the latest fiber optic and CO2 laser machines along with automated raw material handling systems. These CNC cutting services eliminate tooling expenses and lead time while supporting precision production in a diverse range of products.
NC Punch Press
MEC's punch presses support short and medium-run stampings and fabrications with low tooling costs and fast lead times. Perfect for applications where full die sets are not warranted.
Machining & Turning
Featuring vertical and horizontal CNC milling centers and CNC lathes, MEC can support a wide variety of precision machined products. 
Roll Forming
MEC's CNC roll forming machines can feature static and dynamic roll bending. These machines support a wide variety of part geometry with cost-effective processing options and the ability to handle holes, slots, and other openings with minimum distortion.
Metal Stamping
MEC has stamping capabilities ranging from simple hand-feed presses to auto-coil feed lines with complex multi-station tools, supporting tube and sheet metal fabrications with tight tolerances and wide range of applications.
Tube Laser
With multiple fiber-optic tube lasers in multiple locations, we are able to rapidly develop new parts with complex profiles which is complemented by our state-of-the-art CNC bending and welding capabilities.
Assembly
MEC provides mechanical and electromechanical assembly services. Combining comprehensive manufacturing capabilities with assembly solutions, MEC offers fully finished products and sub-assemblies to customers.
Tube Bending & forming
MEC has CNC tube bending machines across our manufacturing facilities capable of bending mild, aluminized, stainless, and aluminum tubes in both round and square diameters ranging from ¼" to 8" thickness. MEC has several state-of-the-art, multi-stack CNC bending machines that allow us to produce complex compound bends where there is very little straight length of tube between bends. MEC's tube-end finishing capabilities include Bead, Double Bead, Flare, Marmon, Crimping, Swaging, Coping, and Pre-Weld Chamfering.
Serving Diverse End Markets.
Our products are built for durability and functionality across a wide range of industries. Learn more about our products in action.